A masterpiece by Imperial Architect Sinan, the mosque of Süleymaniye in Istanbul is the namesake of Sultan Süleyman I.
Taking its name from the mosque of the same name, the quarter of Süleymaniye in the Eminönü district on the Historical Peninsula boasts a number of Ottoman architectural works and, by close association, is an eminent symbol of the Ottoman era. Foremost in importance among the mosque complexes of Istanbul is that of Süleymaniye. Both its façade and its interior inspire awe in the beholder.
On entering the mosque itself, the visitor is struck by the beauty of the hand-loomed carpet, entirely plain, except for the repeating pattern of a single niche, which covers the huge expanse of floor. Custom-made, the carpet was installed in the 1950s. The visual focus is occupied by the niche indicating the direction of Mecca (south) on account of the lovely 16th century Iznik (Nicaea) glazed revetment tiles with floral and foliated motifs.
An illustrious work, the mosque complex of Süleymaniye is a befitting expression of the grandeur of the Ottoman Empire at the time. It was designed by Imperial Architect Sinan, an architect of genius. In addition to the mosque, the complex comprises 6 colleges, a medical school, a public bath, a soup kitchen, a hospice, shops, and a caravansary and stables.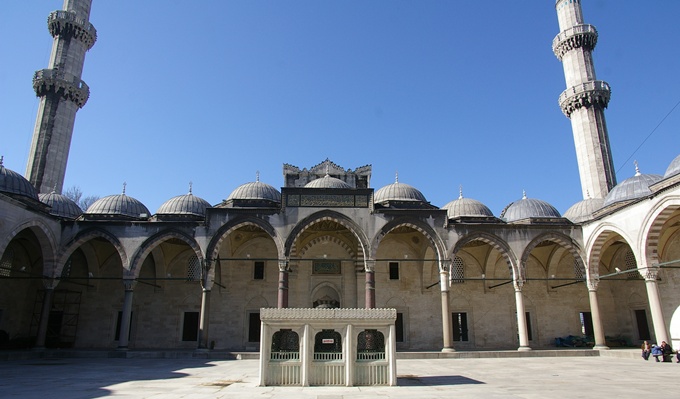 Construction of the mosque itself began in 1550 and was completed in 1557. The mosque demonstrates Sinan's superior command of artistic mastery. Preceding the main portal of the mosque is a porticoed courtyard, which features a central fountain pavilion. Dramatically set off by four slender minarets, the mosque is surmounted by a large central dome measuring 27.5 meters in diameter and whose crown rises to a height of 47 meters. Four massive central piers carry the dome.
The mosque structure is a work of perfection in terms of statics, for despite having endured various earthquakes over the centuries, no cracking has occurred. The bronze openwork partition to the right of the entrance is an excellent specimen of Ottoman metalworking. Of the elegant inscriptions, especially noteworthy are those in white on blue glazed tile, and are the products of Ahmet Karahisarı and his pupil, Hasan Çelebi.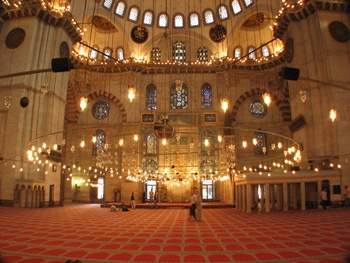 Imperial Architect Sinan also provided for the circulation of air in the mosque by the excavation of underground vaulted tunnels. Inset in the central area of the floor are wooden lids that can be raised to permit the influx of cool, fresh air in summer and warm air in winter.
In the walled garden to the rear of the mosque is the tomb of the founder and of Süleyman's beloved wife Hürrem Sultan (d. 1558), of whom Süleyman once wrote: "I would trade all my riches for a single strand of her hair." The modest tomb of Sinan is situated in one corner of the complex.
Source: www.istanbul.com