Content creators and social media phenomena that direct the preferences of millions of people all over the world with photos, videos and texts came together at the INFLOW Global Summit held on December 19 at The Ritz Carlton Istanbul. INFLOW Global Summit, the world's largest influencer marketing event, attracted more than 200 social media fenomeni from various countries of the world, with a number of followers between 10 million and 100,000.
Influencers followed by millions of people all over the world came together at the INFLOW Global Summit. At sessions where influenza marketing is centralized, they convey experiences and opinions about social media phenomena that are shared with travel, luxury, fashion, gastronomy, mother-child themes. Many influencers also participated in the INFLOW Global Summit, which was hosted by leading figures in the economy and marketing world.
Inflow Summit Founding Partner Afşin Avcı, who made the opening speech of the event, pointed out that INFLOW is the world's biggest influencer event. At the INFLOW Global Summit, there will be close to 250 domestic and foreign influencers, he said. "In this event, the total number of people influenced by the influencers is over 80 million people. We aimed to bring together all the influencers in the world to explain the importance of Influencer Marketing. Our goal is to become a platform in this area of ​​the world a number. We made our first event in the name of Inflow Travel Summit between 17-23 April. 137 influencers from 29 different countries participated in this activity. Our next event was held in Venice on 25-27 August. This activity was smaller and we gave it the name Inflow Meetup. Our first international event in 2018 will be held in Doha, Qatar, between February 25 and February 27. "
World famous names
Speaking at INFLOW Global Summit, THY Senior Vice President of Sales Ahmet Harun Baştürk and Assistant General Manager responsible for Turkcell Marketing İsmail Bütün shared the contributions of the Influencer marketing to today's marketing world, its economic expansion and future prospects.
The event also included influencers with world famous and millions of followers such as Jack Morris, Lauren Bullen, Melanie Martins, Sara Sabry, Jonny Ward, Abdel Saints, Cristina Musacchio and Roberto De Roza.
Different topics were discussed during the event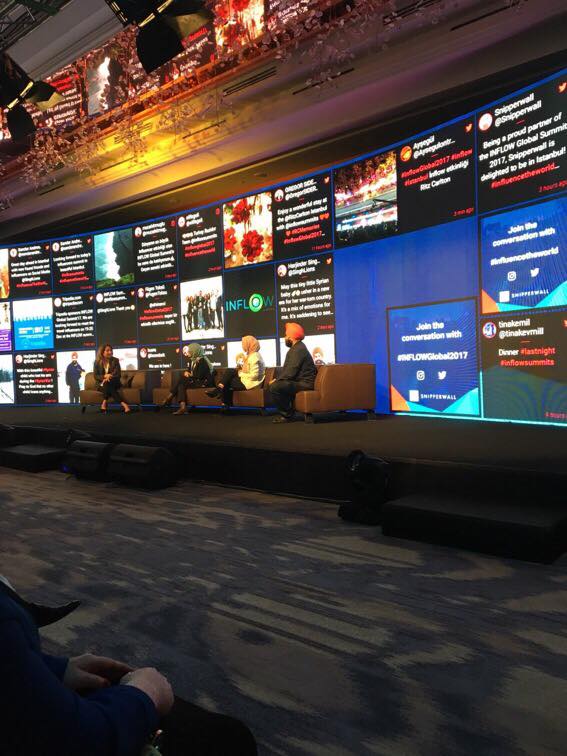 World famous names participated in many panles organized during the event, giving different visions to viewers with different opinions. World-renowned Irish economist David McWilliams has taken up the influential marketing economics and has conveyed his views on the new form of interaction marketing that has emerged in the world and has an international impact.
At the INFLOW Global Summit, the issue of influencer marketing was also addressed in terms of social responsibility. The panel entitled 'Social Responsibility Representative Influencers', organized by TÜHİD President and Effect Burson Marsteller CEO Gonca Karakaş, participated in this panel as speakers from Sara Sabry, Harjinder Singh Kukreja and Didem Kaya Bayram from TRT WORLD.
Burson Marsteller EMEA Region Digital Department Head Matthias Lüfkens and Danone Water General Manager Gamze Cuhadaroglu shared the views of international phenomena within the program and the use of content for loyalty continuity in influencer marketing.
Elvin Levinler, Refika Birgül, Buse Terim and other leading social media phenomena of our country have taken place on the stage in the sessions where the influential marketing experience in our country is also discussed.
B2I (Business to Influencers) meetings
INFLOW Global Summit will continue on December 20th with B2I meetings and networking events that bring together influential influencers from around the world who are important to the marketing world.
Participants also experience the opportunity to capture the natural -güzellik Turkey in particular the relevant destination within the travel program will take place from 21-24 December after the summit will be hosted in Cappadocia Argos in Cappadocia.
INFLOW Travel Summit was held in April 2017
More than 200 influencers and more than 340 brands attended INFLOW Travel Summit event in Antalya in April 2017. In this activity, 9 panels and 2 keynotes were realized. Within the scope of the event, 58 thousand 471 shares were made and 9.8 million interactions were provided in the social media.